BRI Danareksa Sekuritas Won the Best Revenue Growth Award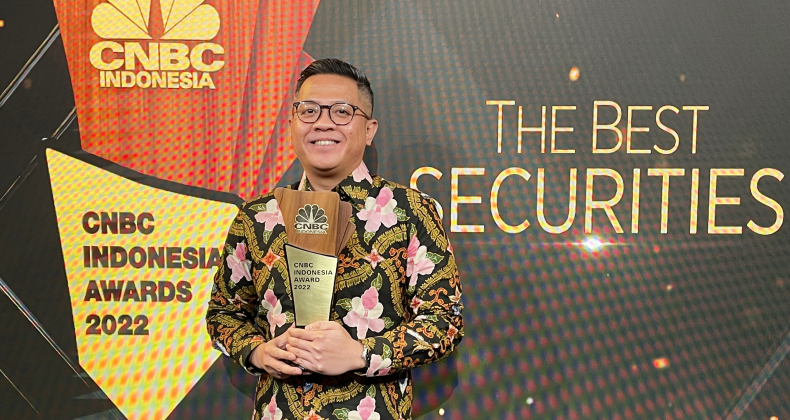 BRIDS Won the Best Revenue Growth Awards
Jakarta, September 29th, 2022 - CNBC Indonesia held the CNBC Indonesia Awards 2022 'The Best Securities' as a form of appreciation for the performance achieved by securities companies. This is because securities companies play an important role in becoming the driving force of the Indonesian economy.
For the Best Revenue Growth category, the CNBC Indonesia Awards 2022 'The Best Securities' was won by PT BRI Danareksa Sekuritas. This award was given directly to the Director of Investment Banking BRI Danareksa Sekuritas Kevin Praharyawan.
Kevin is grateful for this award and also the shareholders who have provided support for the development of their business.
"We also want to thank our institutional clients both in terms of Equity, Bonds, and also Underwriting, as well as Advisory Services who have entrusted all their services and services to us," said Kevin when receiving the award at the CNBC Indonesia Award The Best event. Securities, Thursday (29/9/2022).
In addition, he also appreciated retail investors in Indonesia who have downloaded the BRIGHTS application as an online trading application that has been supported by BRI Danareksa Sekuritas.
In the future, Kevin continued, the challenges in the Indonesian modern market industry seeing the current market developments will be bigger and more challenging. According to him, this award will spur Danareksa to work and provide better services to shareholders.
"Once again, we thank you for the award that has been given by CNBC Indonesia to us, PT BRI Danareksa Sekuritas," said Kevin.
Source: https://www.cnbcindonesia.com/market/20220929160628-17-376015/bri-danareksa-sekuritas-sukses-sabet-the-best-revenue-growth