Book a Excellence Performance, BRIDS Wins Best Investment Bank Award in Indonesia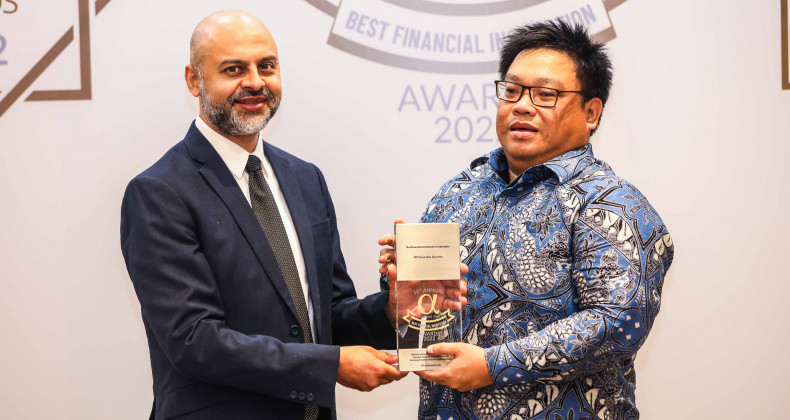 BRIDS Wins Best Investment Bank Award in Indonesia
Download
Jakarta, September 8, 2022 – BRI Danareksa Sekuritas ("BRIDS"), a subsidiary of PT Bank Rakyat Indonesia (Persero) Tbk (IDX: BBRI) and a member of Danareksa SOEs Holding, won the Best Investment Bank in Indonesia award for five consecutive years from the 16th Best Financial Institutional Awards event organized by Alpha Southeast Asia.
Alpha Southeast Asia, founded in 2007, is a magazine that provides information related to investment in Southeast Asian countries. This is the 16th time that Alpha Southeast Asia Magazine has awarded the best financial institution in Southeast Asia. This award is a form of appreciation for Alpha Southeast Asia for outstanding financial institutions in the Southeast Asian region. Meanwhile, award winners are measured based on performance and growth over the past year.
The Best Investment Bank in Indonesia award was received directly by Hendra Hermawan as Acting President Director of BRI Danareksa Sekuritas at Mandarin Oriental Hotel Jakarta, Thursday, September 8, 2022. According to Hendra, the Company's success in bringing home the Best Investment Bank in Indonesia award is an acknowledgment of the success of BRI Danareksa Sekuritas in achieving excellent company performance throughout 2021. One of BRI Danareksa Sekuritas' major achievements that contribute positively to improving the Company's performance in 2021 was the success of the BRI Rights Issue transaction in which the total emissions reached Rp95.9 trillion. In addition, BRI Danareksa Sekuritas has also succeeded in becoming an underwriter in the corporate action of the Initial Public Offering (IPO) of PT Dayamita Telekomunikasi Tbk (Mitratel) shares with total public funds raised reaching Rp18.8 trillion or one of the largest in history of the Indonesia Stock Exchange (IDX). On the other hand, BRI Danareksa Sekuritas was also able to record significant growth in Investment Banking business performance over the past year with an increase of 45%.
"We would like to thank all customers and clients who have entrusted their financial and capital needs to BRI Danareksa Sekuritas. This achievement is an encouragement for us to continue to be committed to improving and providing the best Investment Banking services in the future," said Hendra.
According to Alpha Southeast Asia, the selection of BRI Danareksa Sekuritas as the winner of the Best Investment Bank in Indonesia award because the Company is one of the most well-staffed, highly experienced investment banking houses in the country, BRI Danareksa Sekuritas has retained its position as a leading investment bank of choice among issuers and fixed income credits in Indonesia. For almost a decade now, the investment bank has evolved and adapted to fast-moving developments in the Indonesian financial markets by playing a key role in advising clients small and large.
In addition, Alpha Southeast Asia also noted that BRI Danareksa Sekuritas has Not only has BRI Danareksa Sekuritas maintained that reputation by being a key player in the debt arena but over the past decade, it has also been investing heavily in its equity research, trading and distribution infrastructure and today boasts one of the strongest equity platforms in the country. For its ability in executing transactions both in the local equity and debt markets as well as dollar-denominated transactions and providing unique M&A advisory, the Best Investment Bank, goes to BRI Danareksa Sekuritas.
To date, BRI Danareksa Sekuritas has completed 24 Bond and Sukuk mandates with a total issuance value of around IDR 10 trillion. In addition, BRI Danareksa Sekuritas also plays an important role as a financial advisor on several strategic projects in Indonesia, including the planned implementation of the Kualanamu International Airport strategic partnership with PT Angkasa Pura II, and cooperation in the Trans Java toll road divestment transaction with PT Waskita Tollroad, a subsidiary PT Waskita Karya (Persero) Tbk (WSKT), which involves the Indonesia Investment Authority (INA). In the remainder of 2022, BRI Danareksa Sekuritas also has several mandates to issue bonds, IPOs, and as financial advisors.