BRI Danareksa Sekuritas Inaugurates IDX Investment Gallery at The Gade Coffee Surabaya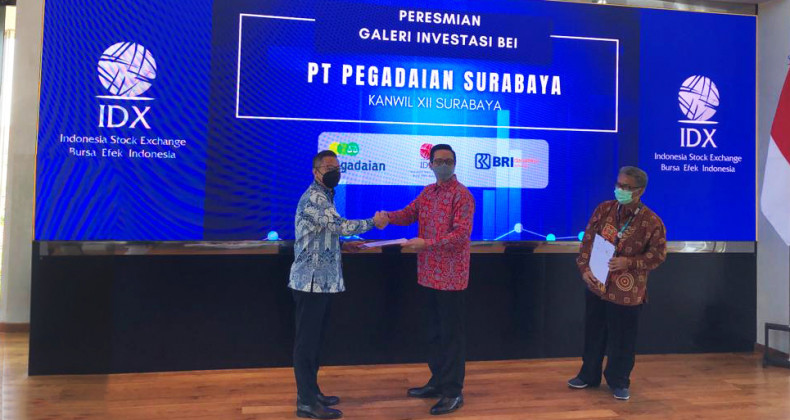 Pegadaian IDX Investment Gallery
Download
Surabaya, August 3rd, 2022 – BRI Danareksa Sekuritas, a subsidiary of PT Bank Rakyat Indonesia (Persero) Tbk (IDX: BBRI) and a member of the Danareksa SOEs Holding, together with the Indonesia Stock Exchange (IDX) and PT Pegadaian inaugurated the IDX Investment Gallery located at The Gade Coffee & Gold, in courtyard of the Pegadaian office, Jl. Dinoyo No. 79, Surabaya.
The inauguration of the 24th IDX Investment Gallery in Surabaya is a collaboration between IDX and Pegadaian and BRI Danareksa Sekuritas as partner Exchange Members. Present at the event were Director of Development of the Indonesia Stock Exchange Jeffrey Hendrik, Deputy of Operations for Pegadaian Surabaya Regional Office Surjo Raharjo and BRI Danareksa Sekuritas Investment Banking Capital Market Director Kevin Praharyawan.
Kevin Praharyawan said that this inauguration is a form of synergy between BRI Danareksa Sekuritas and Pegadaian in the BRI Group ecosystem, and is in line with the theme of this year's BRI Danareksa Sekuritas anniversary, namely "Contributing to the Development of the Indonesian Capital Market", where the company will continue to contribute to the development of the Indonesian Capital Market, one of which is by supporting programs and activities initiated by the IDX.
"We hope that the Investment Gallery, which is the result of collaboration with Pegadaian, which is located at The Gade Coffee, can be something new in the Indonesian capital market ecosystem and can be an attraction for the surrounding community, especially millennials, and can be a means of education and a source of capital market information that can encourage literacy and inclusion in the Indonesian capital market." added Kevin.
For information, the inauguration of the IDX Investment Gallery at PT Pegadaian was inaugurated along with 5 other IDX Investment Galleries in Surabaya. With the inauguration of 6 IDX Investment Galleries, the number of IDX GIs throughout Indonesia has reached 697 IDX GIs and the number of IDX GIs in the working area of ​​the East Java IDX Representative Office is 80 IDX GIs covering 65 IDX GIs, 8 IDX GIS, 6 IDX GIDs and 1 GID spread over in various cities in East Java, such as Surabaya, Malang, Mojokerto, Madiun, Banyuwangi, Jember, Blitar, Lumajang, Bangkalan, Sumenep, Pamekasan, and others.